Media
---
Date: May 15, 2013
Publication: Southwest Journal/Minnesota Premier Publications
Lessons from loss
...
Linden Hills producer Maxine Davis runs a film company called "Every Life is a Story," and she received two Telly Awards for her documentaries on Holocaust survivors created for the Jewish Community Relations Council.
"Every story is shocking," Davis said.
She profiled a Holocaust survivor who spoke out against laws that would limit the rights of the gay and lesbian community, testifying at the state Legislature in 2003. "She saw gay people put in ovens, just like Jews," Davis said.
Another film tells the story of Esther Horowicz Latarus, the mother of Sylvia Fine of Linden Hills and Lili Chester of East Harriet.
Fine's mother Esther lived for much of the war in Lodz, Poland, inside a Jewish ghetto surrounded by barbed wire.
"During the four years, it is hard to describe how much hunger we suffered," Esther said in the film. "We got so little food that it was too much to die and too little to live."
Esther left Lodz to embark on a two-and-a-half day journey, without any toilets or water, to Auschwitz. She was sent out on work details to dig ditches, wearing light clothing throughout the harsh winter.
On a day she was too sick to work, she braced herself to be shot by a soldier, as was routine for sick prisoners. A soldier threw her a piece of bread instead.
"I don't know why, but you still you want to live," Esther said. "Everything was so bleak. What was the purpose of living? But somehow people want to live, even in the worst circumstances."
Esther died in 2006, and Fine has traveled in her stead to speak at schools and continue telling her story. The film they produced with Davis is now available in teaching kits.
"We get out in schools and teach about tolerance, discrimination and prejudice using the lessons of the Holocaust," Fine said. "In 12 minutes you hear the whole story, and you understand this happened to people who are everyday people. ... Any publicity we can get to keep people aware of the fact that these atrocities happened are really what the second generation's goals are all about."
Read the full article on Southwest Journal
---
Twin Cities Live (TCL) Interview with Maxine Davis
Duration: 7:16 Minutes, 31 MB
Unfortunately, this portfolio gallery requires Macromedia Flash. If you're viewing this page on an iPhone, Macromedia Flash is not yet supported by Apple and we encourage you to visit this page on a laptop or desktop computer.

If you believe you're seeing this message in error and have Flash Player version 8.0 or higher installed, click to reload the gallery — or download the Flash Player browser plug-in.
---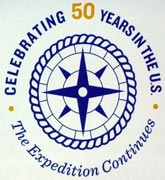 Date: October 24, 2012
Location: New York City, NY
Outward Bound Women, produced and directed by Maxine Davis, was shown at the 2012 National Benefit Dinner for the 50th Anniversary of Outward Bound USA.
Senator Mark Udall and Maxine's trailer for a future hour-long documentary, were highlights of the Gala Dinner at the famed Cathedral Church of St. John the Divine.
---
Date: May 2012
Location: Boston, MA
Maxine Davis' documentary short, "In the Shadow of the Acropolis," was presented as the centerpiece of "Everyday Heroes: The Power of Truth, Knowledge, and History." The showing was held in Boston, MA and brought together leading members of Boston's Jewish and Greek Communities. The audience included His Eminence Metropolitan Methodios and former Governor Michael Dukakis and his wife Kitty.
---
An amazing life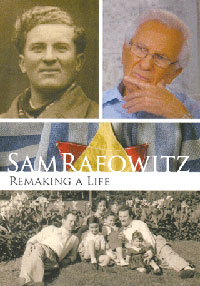 Date: August 31st, 2011
Publication:
American Jewish World
Sam Rafowitz, a native of Warsaw, Poland, recalls how the Nazi invaders of his homeland forced him to clean out apartments in the ghetto. Then events took a turn for the worse.
"About 15 and a half, they took me already," relates Rafowitz, in a new 30-minute documentary. "I went to work and I never came home, never came home. They loaded us up on big trucks and we didn't know where we were going. We found out that this place was a concentration camp — Majdanek, Lublin."
Majdanek served the Nazi regime as a forced labor, concentration and extermination camp. More than 360,000 souls, mostly Jews, were murdered at Majdanek. Rafowitz, who was pressed into slave labor, somehow survived Majdanek, and four other concentration camps — Auschwitz (1943-1945), Buna, Dora and Bergen-Belsen.
On April 15, 1945, British soldiers liberated the tortured inmates of Bergen-Belsen, including Rafowitz, who was down to 78 pounds.
A documentary on DVD, Sam Rafowitz: Remaking a Life, which depicts the Minnetonka resident's survival in the Shoah and his new life in America, premiered Aug. 22 at the Sabes JCC theater. A packed house enjoyed live music performed by Ivan Rafowitz, Sam's son, keyboards; Adam Rafowitz, Sam's grandson, electric guitar; and Steven Greenberg, drums.
Steve Hunegs, director of the Jewish Community Relations Council (JCRC), spoke prior to the video screening. The documentary was produced by Laura Zelle, director of the JCRC's Tolerance Minnesota program. The DVD will be made available to schools in the Midwest to use as an educational resource.
Maxine W. Davis, the writer and director of Sam Rafowitz: Remaking a Life; and Ken Rafowitz, Sam's other son, also spoke prior to the screening, which was followed by a brief talk by Sam Rafowitz...
Full Article on American Jewish World website
---
Date: November 11, 2009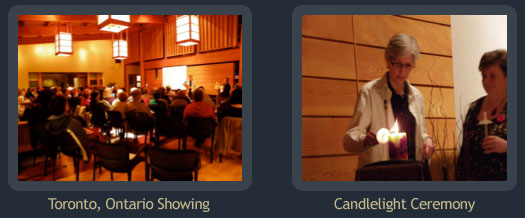 "In the Shadow of the Acropolis" was shown as part of Toronto's Holocaust Education Week on Monday, November 9, 2009. L'Arche Chapel inRichmond Hill, a suburb of Toronto, was the evening's venue.
Approximately 150 people attended the showing in the handsome chapel. Following the documentary there was discussion, a candle-lighting ceremony and group commitment to tolerance.
Produced by Laura Zelle, Jewish Community Relations Council-Minnesota & the Dakotas, and directed by Maxine Davis, Every Life is a Story LLC, the documentary short reveals an ancient Jewish culture through the eyes of one family that survived the Holocaust in Greece. The film received two Telly Awards, one for recognition in Educational, the other for
Biographical Documentary.
Greek Jews in this documentary represent a branch of Judaism most people have never heard of - The Romaniotes. A number of Greek Jews also attended the evening film and joined the discussion.

---
Documentary to highlight culture of Greek Jews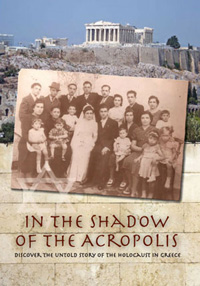 Date: October 31, 2008
Publication: American Jewish World
Tolerance Minnesota, an initiative of the Jewish Community Relations Council will host a screening of In the Shadow of the Acropolis 3:30 p.m. Sunday, Nov. 16 at the Riverview Theater, 3800 42nd Ave. S., Minneapolis.
The documentary reveals an unknown 2,000-year-old culture of Greek Jews called the Romaniotes. Through original testimony by the Ackos Family (local to the Twin Cities), this memoir shares the compelling details of how the Romaniotes were almost wiped off the map of civilization during the Holocaust.
The film was produced locally by acclaimed director and producer Maxine Davis and is narrated by Jamie-Lynn Sigler (star of HBO's The Sopranos), who is of Greek-Jewish heritage.
The event will also feature the unveiling of Minnesota's first Holocaust Survivor Education Kit, which brings the story of a Holocaust survivor to schools throughout the state.

---
Dates: September 29, 2007 / October 7, 2007
Maxine Davis' newest documentary short, "We Never Talked About It," is included in a select group of filmmakers whose work will be seen on:
The "Greatest Generation Showcase," a 60-minute program which was developed in conjunction with the TPT broadcast of the Ken Burns documentary "The War."
Maxine's short will premiere with four others, on TPT 17 on Saturday, September 29 at 8 pm. and TPT 2 on Sunday, October 7 at 10:00 pm.
---
Date: June 2007
Publication: Minneapolis-St. Paul Magazine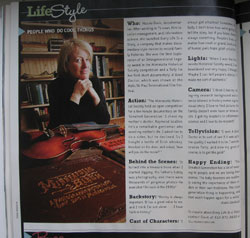 Maxine Davis
By Katie Derdoski
Who: Maxine Davis, documentarian. After working in TV news, film-location management, and information science, she launched Every Life Is a Story, a company that makes documentary-style movies to record family histories. She won the Best Exploration of an Intergenerational Legacy award in the Minnesota Historical Society competition and a Telly for her first short documentary, A Good Doctor, which was shown at the Mpls./St. Paul International Film Festival.
Action: "The Minnesota Historical Society held an open competition for a ten-minute documentary on the 'Greatest Generation.' I chose my mother's doctor, Raymond Scallen. He's a remarkable gentleman who saved my mother's life. I asked him to do a video, but he declined. So I bought a bottle of Irish whiskey, knocked on his door, and asked, 'Now will you do the movie?' "
Behind the Scenes: "It turned into a treasure trove when I started digging. His father's hobby was photography, and there were thousands of gorgeous photos—he even shot film back in the 1930s!"
Backstory: "History is always important. It has a great value to me, and I think I'm not alone … . I have faith in history."
Cast of Characters: "I always get attached! Sometimes initially I don't know how we're going to tell the story, but if you listen, there's always something. People's lives, no matter how small or grand, lived a life of humor, pain, hope, grief—a full life."
Lights: "When I won the Minnesota Historical Society award, I was bewildered and very happy. I thought, 'Maybe I can tell people's stories.' It made me sort of authentic."
Camera: "I think I had my calling—my research background and intense interest in history makes a great visual story. I love to find pictures the family doesn't even have or know exists. I got my master's in information science and I love to do research."
Tellyvision: "I sent A Good Doctor in to sort of see if it was up to the quality I wanted it to be. I won the bronze Telly, and now my goal, of course, is to get the gold!"
Happy Ending: "The Greatest Generation has a lot of meaning to people, and we are losing their stories. The baby boomers are suddenly seeing the importance of their elders or their own traditions. The triple generation thing is happening, and that won't happen again for a while."
To inquire about Every Life Is a Story, contact Davis at 612-871-5610.
Website:
Mpls-St. Paul Magazine
---
Maxine Davis' film "A Good Doctor" to be shown as part of the Documentaries Program in the Minneapolis/St. Paul International Film Festival
Time: Monday, April 23rd - 7:15 pm
Location: Oak Street Cinema
Website: Minneapolis/Saint Paul International Film Festival
---
For immediate release
Contact: Maxine W. Davis,
maxinedavism@aol.com
Phone: 612-871-5610
Maxine W. Davis, of Every Life is a Story
LLC,

Minneapolis, MN wins award in 28th Annual Telly Awards from a record breaking pool of entries

Minneapolis, MN (March 27, 2007) The Winners of the 28th Annual Telly Awards have been announced. With a record 13,379 entries from all 50 states and around the world, this year's competition has been the most competitive and successful in the long history of the Telly Awards.

Again, Maxine Davis, of Every Life is a Story LLC, has been awarded for "A Good Doctor," a video produced for the Minnesota Historical Society.

Founded in 1979, the Telly Awards is the premier award honoring outstanding local, regional, and cable TV commercials and programs, as well as the finest video and film productions

This year's Winners include companies, agencies and organizations of all sizes, from large multinational media companies to small ad agencies and local production houses.

A prestigious judging panel of 27 accomplished industry professionals, each a past Winner of a Silver Telly, the top honor, upholds the historical standard of excellence that Telly represents.

Chairman of the judging panel, Richard Friley, the Emmy and Telly Award winning President of Friley Productions noted, "I am honored to have overseen this year's judging and privileged to review such diverse and incredible work. It is a remarkable achievement for all of the Winners to be recognized from such an outstanding pool of entries."

For more information on Every Life is a Story LLC, check the web at: 'http://www.tellyourhistory.com/":/
---
Nov 17, 2006
Piecing it all together
By Dan Haugen
featured in the Southwest Journal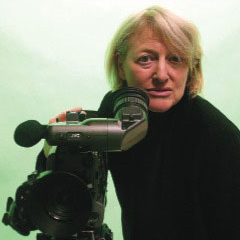 Linden Hills filmmaker documents personal histories for families
A gray photo of a young boy, necktie wildly flapping across his white collar shirt, gravitates toward the screen.
As his shoulders fill the frame, a soft fade brings viewers to the same boy seven decades later, in full color, recalling his younger days for an interviewer.
His tie now neatly hung between sides of a gray sport coat, Dr. Raymond Scallen tells the camera about growing up in Southwest, going off to fight in World War II and coming home to practice medicine.
Scallen, born in 1925, is the subject of a new short, personal history documentary by Linden Hills resident Maxine Davis called "A Good Doctor." The Minnesota Historical Society recently awarded the film "Best Exploration of an Intergenerational Legacy" in an annual contest as part of its Minnesota's Greatest Generation Project.
"A Good Doctor" is also an example of what Davis, a longtime film production and location manager, hopes to cultivate into a successful small businesses: the family video biography.
"Once our elders are gone, some of these stories are just going to be gone," Davis said.
She interviewed her 90-year-old mother a couple of years ago about her life growing up in Sioux Falls, S.D. for her first video biography.
"I thought, you know, I'd like to keep my mother's story alive," she said.
She then collected family photographs and sought out historical images to accompany her mother's words.
The finished product, a short, television-style biography of her mother, was eventually circulated to family and friends, whose reactions were enthusiastic.
"People came to me and said, 'This is really cool.'," Davis said. "Then I thought, this could be a good business, telling people's histories."
Her fledgling film company, Every Life Is a Story, has produced four more since then.
Barbara Rubin-Greenberg watched the video Davis produced about her mother and decided to hire Davis to tell her own parents' story.
"We wanted their story for ourselves and future generations," Rubin-Greenberg said.
"She interviewed them both intensely about their history, how they met, their values, their stories," Rubin-Greenberg said.
It was research after the interviews that made the film "extraordinarily unique," she said.
Davis collected old family photos and movies, interviewed Rubin-Greenberg and her siblings, and then sought out more images from historical societies and museums.
She found photos of places her parents lived and worked, maps of tiny towns where grandparents came from, a photo of a shoe store where her mother worked.
"It was really pretty amazing, and all in 18 minutes," Rubin-Greenberg said. "My kids said when they watched that it's like watching a documentary on PBS. It is so professional and so like what you would see on television."
Rubin-Greenberg, her siblings and parents split the cost of the production, which includes filming, research, writing time as well as fees for obtaining music and photos.
Even though digital video equipment has become more available, producing films is still a laborious effort, from shooting to writing and editing to manufacturing. Davis said people should expect to pay at least $1,000 for a small project.
Video biographies have existed for decades, but the accessibility of digital video cameras and editing equipment has helped spawn a new generation of personal history producers.
Perry Cowen, owner of Once Upon a Time Video Productions of Maple Grove, said he's been producing video biographies for about two decades. He estimated there were at least 20 companies in Minnesota doing some kind of family history video projects.
"The less expensive companies sometimes put a photo montage to music and call it a biography," Cowen said.
It's also possible to do it yourself with a basic digital camcorder and free editing software.
"If you just want the basics, you can do it yourself," Cowen said.
Written family histories can provide more detail, but video biographies allow an entire family to share an experience at the same time, children and grandparents gathered around a television.
"I feel it's a privilege to be able to connect these generations," Davis said.
Dan Haugen can be reached at dhaugen@mnpubs.com or 436-5088.
---
Nov 9, 2006
Linden Hills film wins award
featured in the Southwest Journal
An award-winning short film by Linden Hills resident Maxine Davis will be shown at 7 p.m. Nov. 15 at the Southdale Public Library.
The video, called "A Good Doctor," is about Dr. Raymond Scallen, who was born in 1925, grew up in Southwest Minneapolis and is still a practicing physician.
Davis, of Every Life Is a Story LLC, won the Minnesota Historical Society's award for "Best Exploration of an Intergenerational Legacy."
Applications are already being accepted for next year's film competition.
Davis recently started a company to produce family video biographies, ranging from short video interviews to longer productions. She will answer questions at the event about the film and the competition.
"A Good Doctor" plays Nov. 15, 7:00 pm
Southdale Library. 7001 York Ave. S.
Library: 952-847-5900.
Contact Maxine: http://www.tellyourhistory.com/