Demo Reel
Click on the video you would like to see to start playback. To go to full screen, click on square in bottom right beneath screen.
The Good Doctor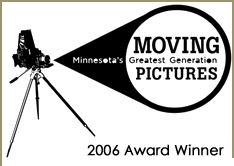 "Women Outward Bound" Trailer
Women Outward Bound Trailer from Nick Clausen on Vimeo.
In the Shadow of the Acropolis
The Minneapolis Children's Hospital
We Never Talked About It
Historical Photos: Minnesota Historical Society
Having trouble watching the video? Choose from any of the three formats below:



Music: "Sh'chuna K'tana" & "IIlse" from
Little Neighborhood
Michael Alklen Harrison
.
NOTE: This edited clip is 2:14 minutes from a 19 minute VideoBiography™. It has been edited for Internet viewing.
Broadband connection recommended. Download free players:
Flash Player | Quicktime | RealPlayer | Windows Media Player